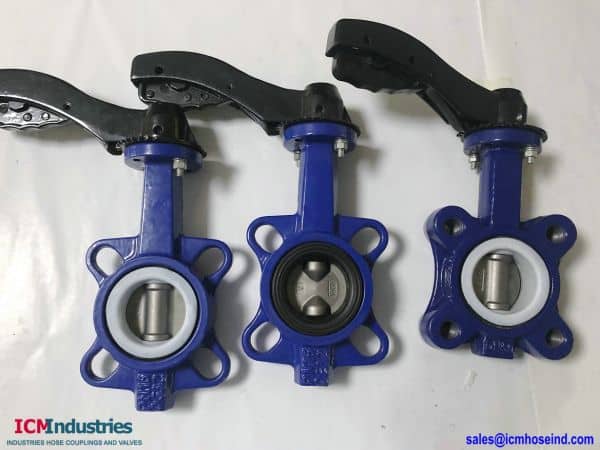 A. Design
Body: GGG40(Ductile iron) according to ASTM A395
Body Finish: epoxy powder coated
Disc:CF8M
Shaft: 420 Stainless Steel
Seat: NBR/EPDM/PTFE
Bushing: PTFE
Pressure:PN16
Face to face acc. to EN 558-1 Serries20
Top Flange acc. to ISO5211
B. Description and Function
Concentric Butterfly Valves are designed and manufactured to have optimal mix of structural stability, flow efficiency and effective seating coupled with advantage of light weight, compact design and ease of operation. Only a quarter turn is needed to fully open or close theses valves.
• Symmetric disc design ensures favorable flow characteristics and low pressure drop
• Concentric shaft ensures low operating torque
• Lining gives a good protection to valve body, and acts as flange gasket
– Shaft penetrates the valve seat
– Limited choice of seating materials (Elastomer, only)
Valve types:
1) Wafer type
• Shipbuilding, water works, heating and ventilation, power plants, oil refinery chemical plants etc.
• Valve to be installed by long bolts between the flanges of adjacent pipe only
• Easy handling and light weight.
• Easy installation, less bolt quantity and low cost.
• Inconvenient maintenance of adjacent pipe.
2) Lug type
• general piping system pump outlets, tank drains, ship sides etc.
• Ring shape bolt hole for bolting with flange of connecting pipe.
• Keep pressure inside during repairing adjacent the other side pipe.
• Different flange shape.
• Possible damage on full face gasket.
• Hard repairing of corroded bolt.
• More man-hour for installation and body can be cracked by misaligned thread.
• Heavy weight.
For more technic and dimesnion information, please check our TDS file.
 download:Ductile iron Butterfly valve TDS-ICM Industries Jun 1th, 2021
We also can offer high performance butterfly valve. Size available from 2″-48″.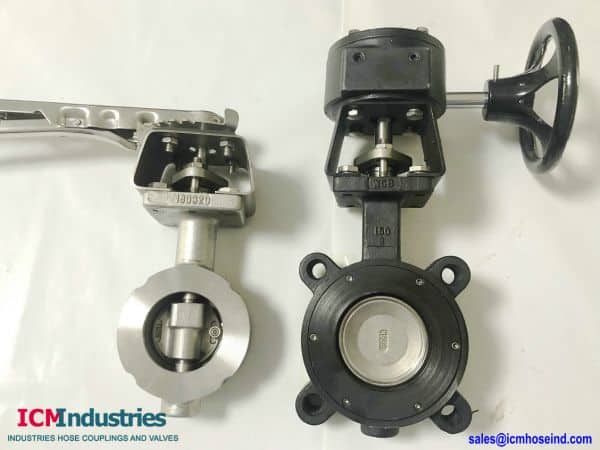 If you are interested in these LR and DNV Certified butterfly vales, please feel free to contact us. We have confidience to get your connections done. We have confidience to offer safer, repetable and valuable solutions for your hosese and equipment. Contact with us now!
Contact: Wendy Liu
TEL:+86-151-6915-4504
FAX:+86-531-6992-4512
Headquarter:
ICM Industrial Co., Ltd.
Room 501, Unit 1, Building 7, ZhifangStreet, Tianqiao District, Jinan City, Shandong P.R., China.
ZIP Code:250101
Sales:
Wendy Liu MP: +86-18660803139(WhatsApp) Skype: wendyciphappy
Nana Liu MP: +86-15634803035 (WhatsApp) Skype: nana.liu85