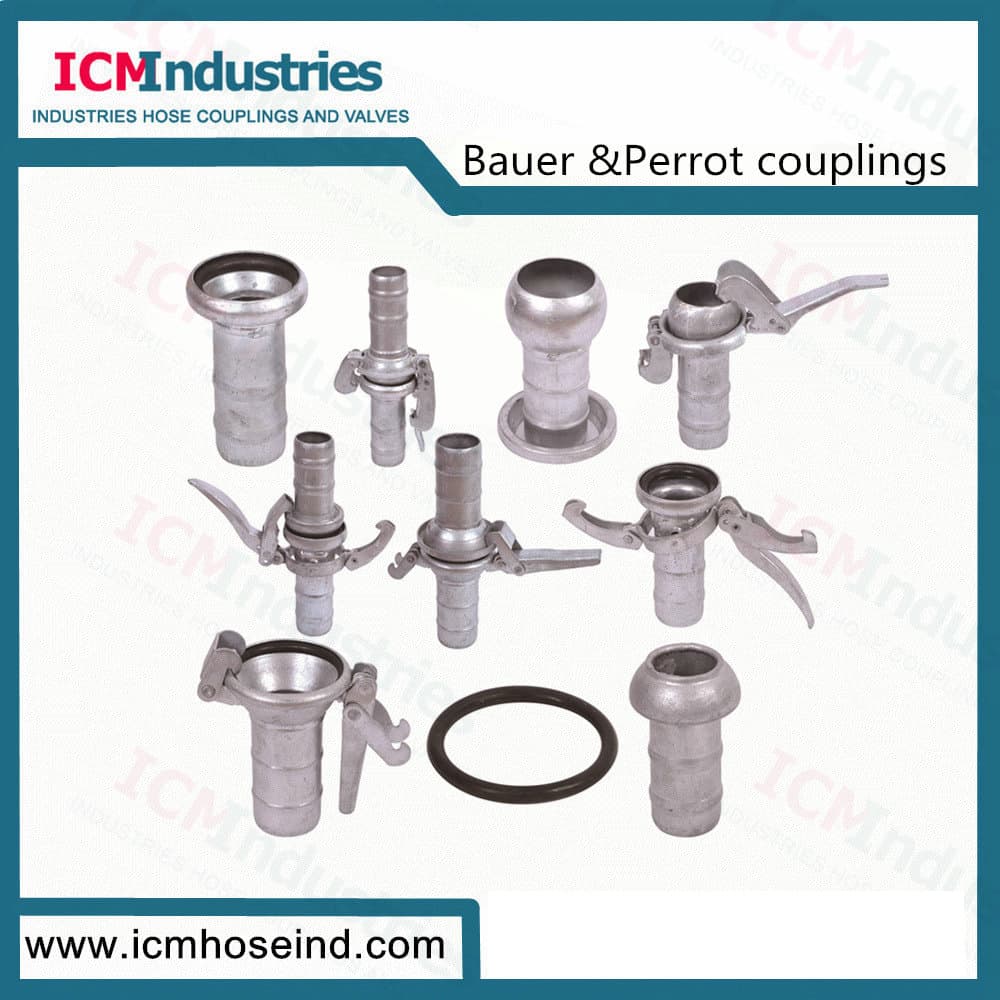 Pump Fitting
Bauer and Perrot Couplings are fast effective means of coupling pipe, hoses, and fittings in for a wide range of applications. In today's competitive agricultural and industrial market, high performance pumps demand high performance couplings. The high degree of rotation couplings allows non-perfect alignment of pipe and hose. They are not affected by dirt, mud, as are cam-loc, threaded, or bolt-on couplings. The couplings are fully contained and therefore no clamps or other clamping devices that could get lost. For added locking assurance, a security lock composed of a small hole on the coupling's hooks and a pin acting as a block to avoid accidental opening of the coupling is available.
Double Well provides professional solutions concerning industrial hoses and couplings as well as industries pipe fittings and valves for industry, located in north of China. Our main products include hose couplings ( Camlock coupling,Air hose coupling, Bauer coupling), fire fighting couplings ( Stroz coupling, Guillenmin couplings, John Morris couplings, Machino coupling, Barcelona coupling Forestcouplings, fire nozzles), pipe fittings(stainless steel pipe fittings, malleableiron pipe fittings, flanges, sanitary pipe fittings) and valves ( ball valve,gate valve, sanitary butterfly valve ) and so on.
Adavantage of Bauer Fittings:
Fast, flexible, strong & safe
High performance couplers & fittings
Can be used on both suction & discharge applications
Quick-action couplings in sizes 2″ through 12″
Can be used to connect aluminum, steel, stainless steel or HDPE pipe & hoses
Secure locking pins to avoid costly spillages
Vacuum-tight "O" ring seal
14 to 30 degree coupling flexibility in all directions to compensate for misalignments and rough terrain
Standard and custom-built steel and aluminum fittings available
Couplings available in black, galvanized, powder coated steel, stainless steel 304 or cast aluminum
Will handle water pressures from 58 psi to 290 psi
No special tools to couple or uncouple
Bauer coupling Specs:
Material: galvanized steel or S/S
Parts: male tail, female tail, lever ring and rubber ring
Size: 2″, 3″, 3-1/2″,4″,6″,8″
Application: irrigation, mining and tunneling, civil engineering project, emergency water supply, dewatering and drainage
Pre-sale service
1.We have stock and could deliver goods within short time.
2.OEM order are accepted, logo printing are available.
3.Good Quality + Factory Price + Quick Response + Reliable Service, is what we are trying best to offer you.
4.All of our products are produced by our professional workman and we have our high-work-effect foreign trade team, you can totally believe our service.
After-sale service
1.We are very glad that customers give us some suggestion for price and products.
2.If you have any question,please contact us freely by E-mail or Telephone or Whatsapp or Skpye.